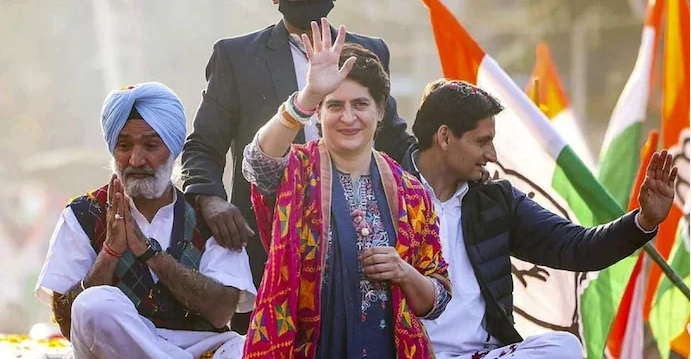 Priyanka Gandhi To Accompany Rahul Gandhi On Bharat Jodo Yatra In MP Next Week
Madhya Pradesh, 20th November 2022: Congress General Secretary Priyanka Gandhi Vadra will join the Bharat Jodo Yatra from Madhya Pradesh next week. For the first time, Priyanka Gandhi will join the Bharat Jodo Yatra led by Congress MP Rahul Gandhi. Bharat Jodo Yatra will enter Madhya Pradesh on 20 November.
According to party sources, Priyanka Gandhi will go on a yatra with her brother Rahul Gandhi from November 23 to 25 to create public opinion on basic issues of life and livelihood. Priyanka Gandhi could not join this yatra earlier because she was busy with the party campaign for the assembly elections in Himachal Pradesh.
Bharat Jodo Yatra started from Kanyakumari and will end in Kashmir. The yatra has so far covered almost half the distance of 3,570 km. So far, the former National President of Congress, Sonia Gandhi, has participated in this journey. Priyanka Gandhi will accompany her brother Rahul Gandhi on this journey from Madhya Pradesh.
Rahul Gandhi's Bharat Jodo Yatra is about to reach Ujjain, the city of Mahakal. Here he will have a darshan of Baba Mahakal and will also address the public. Through this yatra, Rahul Gandhi will cover a distance of 382 km in the state. After this, the Yatra will enter Rajasthan in the first week of December. As per estimates, the yatra will enter the state from the Jhalawar district on December 3. Meanwhile, no changes will be made to the route.
In Indore, Rahul Gandhi received a bomb threat during his Bharat Jodo tour. This has worried Congress leaders across the country. Rahul Gandhi's father, and former Prime Minister, Rajiv Gandhi, was also made a victim of a bomb blast in similar circumstances. Senior leaders of the state Congress have talked to the administration to increase the security of Rahul Gandhi during the Bharat Jodo Yatra.