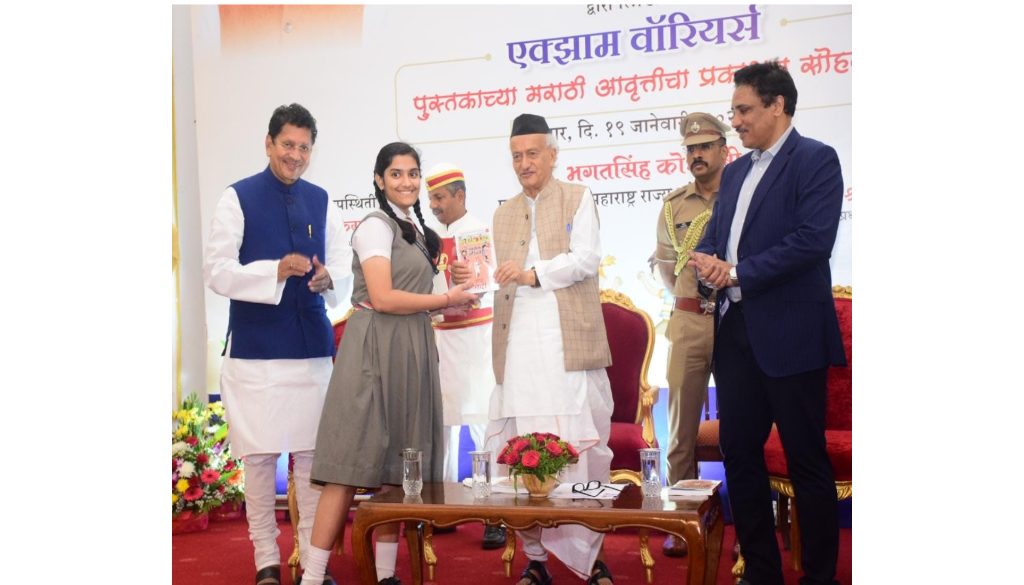 Maharashtra Governor releases Marathi version of PM Narendra Modi's book 'Exam Warriors'
Mumbai, January 19, 2023: Maharashtra Governor Shri Bhagat Singh Koshyari released the new Marathi edition of the book 'Exam Warriors' authored by Prime Minister Shri Narendra Modi at Raj Bhavan Mumbai today (January 19, 2023). The Governor presented copies of the book to five students on the occasion.
The Minister of School Education and Marathi Language Shri Deepak Kesarkar, Principal Secretary, School Education, Government of Maharashtra Shri Ranjit Singh Deol, Principals, teachers and students from Campion, Anjuman I- Islam, St. Mary, Balmohan Vidyamandir and Guardian School were present.
Addressing the students and teachers, the Governor appealed to them to become fearless and face the examination with preparedness. Referring to the words of Prime Minister Shri Modi, the Governor told them to explore and understand 'Incredible India'. He asked students to visit the forts of Shivneri, Raigad and Sinhgarh as also the modern monuments like the 'Statue of Unity' and draw inspiration from the lives of great national leaders.
The Governor asked the School Education Minister to arrange to make available copies of the book 'Exam Warriors' in libraries of all schools across the State. The book has been published by National Book Trust.