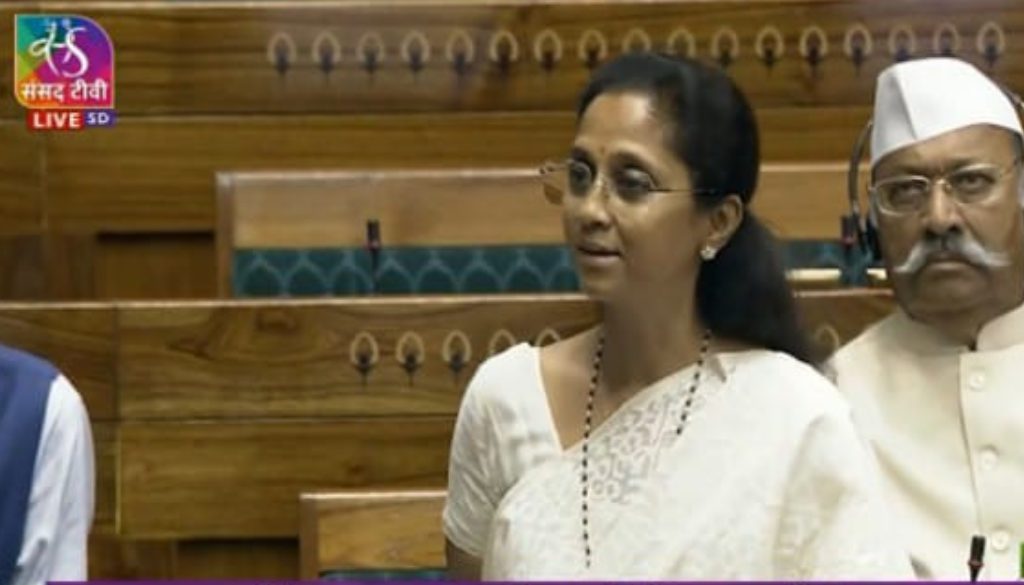 Supriya Sule Advocates for Women's Reservation in Loksabha, Questions Urgency of Special Session
New Delhi, 20th September 2023: Supriya Sule, Member of Parliament, lent her unequivocal support to the Constitution (128th Amendment) Bill 2023, focusing on women's reservation in the parliament. While endorsing the bill, Sule raised a series of thought-provoking concerns during her speech.
Urgent International and National Issues
Sule, known for her astute observations, began by recommending that the special session of Parliament should be utilized to deliberate on pressing international matters concerning India's diplomatic relations with Canada. She also stressed the need to address critical national concerns, including drought, rising prices, unemployment, and the long-standing demand for reservation by various communities such as Dhangars, Marathas, OBCs, and Muslims in Maharashtra.
Challenging Misogyny in Politics
In a bold move, Supriya Sule questioned the commitment of the Central government to women's welfare, highlighting recent instances of misogynistic comments made by ministers against elected women parliamentarians, including herself. Her question raised pertinent concerns about the need for a more inclusive and respectful political environment.
Clarity on Implementation Timeline
Sule further scrutinized the bill by seeking clarification on the timeline for the implementation of women's reservation in Parliament and Legislative Assemblies. She noted that the bill stipulated that reservation could only be implemented after the release of Census data and the completion of the delimitation exercise, both of which have undetermined dates. This query raised critical questions about the practicality and expediency of the proposed legislation.
Special Session vs. Winter Session
Finally, the Lok Sabha member questioned the urgency of holding a special session to discuss the women's reservation bill when it could have been addressed during the regular Winter Session in 2023. This inquiry underscored the necessity of timely and efficient utilization of parliamentary sessions.
Supriya Sule's address today in the Lok Sabha has ignited a spirited debate on the Constitution (128th Amendment) Bill 2023. Her thought-provoking questions have added depth to the ongoing discussion about women's representation in Indian politics and the various challenges that lie ahead in implementing this landmark legislation.