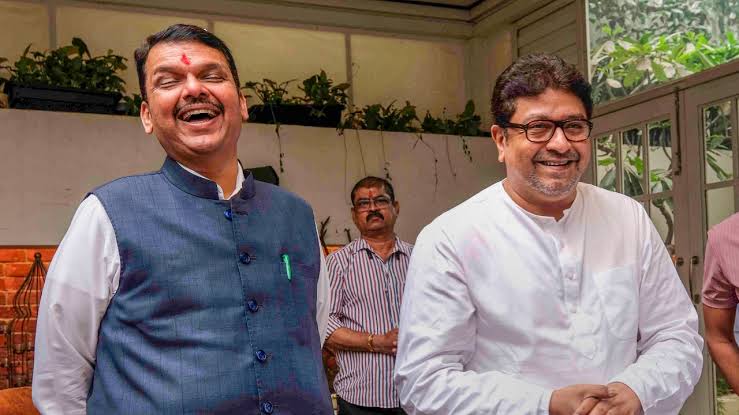 After Shinde, BJP Is Now Putting Strings On Raj Thackeray? Preparing To Play In BMC Elections
Mumbai, 31st August 2022: The BJP is looking to improve its performance in the 2017 BMC elections, when it got 82 seats, just two short of the Shiv Sena's figure of 84. At that time, the MNS had managed to win seven seats.
Even before the fall of the Shiv Sena-led Maha Vikas Aghadi (MVA) government, Uddhav Thackeray's cousin and Maharashtra Navnirman Sena (MNS) chief Raj Thackeray has been quite vocal about Hindutva. He had attacked Uddhav's party a lot for the use of loudspeakers in mosques. With the Brihanmumbai Municipal Corporation (BMC) elections approaching, the BJP sees an ally in the MNS. Even though the BJP is in power with Shiv Sena rebels led by Chief Minister Eknath Shinde, BJP leaders are keeping their doors open for a pre-poll alliance with the MNS ahead of the BMC elections. They believe that Raj Thackeray's organization along with Shinde faction can make Shiv Sena's Marathi vote bank in their favour.
According to sources, state BJP president Chandrashekhar Bawankule had met the MNS chief on Tuesday at his residence Shiv Teerth in Dadar area of Mumbai. An MNS functionary said, "MNS wants to contest BMC elections. But the alliance with the BJP and Shinde faction should be rational. Another party leader said, "Raj Sahab is not going to surrender to the BJP. It will be on their terms and conditions." A BJP strategist said, "Out of the total 227 seats, the BJP may offer 25 to 30 seats to the MNS as it will have to look at the Shinde faction as well."