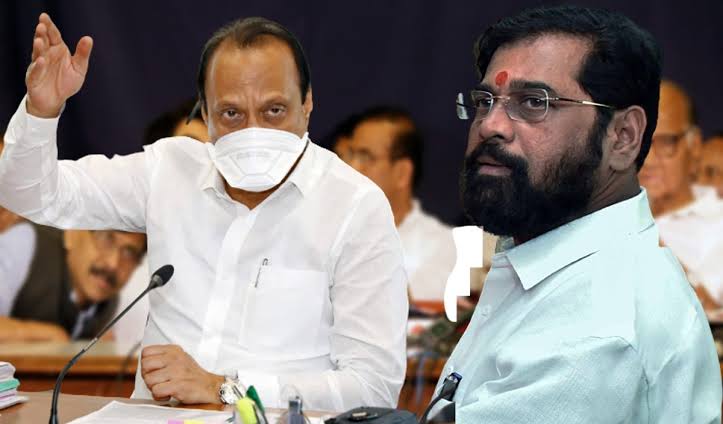 Mumbai: Opposition Leader Ajit Pawar Criticizes Chief Minister Eknath Shinde and Calls for Unity to Bring Down Government
Mumbai, 2nd May 2023: In a speech at the Vajramooth rally, opposition leader Ajit Pawar heavily criticized Maharashtra Chief Minister Eknath Shinde and the current government, calling it a "treacherous government" that came to power through "treachery and fraud."
He also urged the workers of the three parties to unite and bring down the government. Many have questioned Pawar's presence at the meeting, and his strong criticism of Shinde.
Pawar claimed that the Shinde-Fadnavis government is not working for the people, but rather for themselves. He accused the government of spending crores of rupees on advertising, while ignoring issues such as unemployment, inflation, and farmers. Pawar also stated that the Mahavikas Aghadi had shown their strength in previous elections, and urged the parties to maintain unity.
Former Chief Minister Ashok Chavan expressed his belief that the Mahavikas Aghadi will stay together and fight all the upcoming elections together. He also highlighted the success of the Mahavikas Aghadi in the Agricultural Produce Market Committees elections.
Mumbai Congress president Bhai Jagtap called on Congress leaders and activists to work together to defeat the BJP in the upcoming Mumbai municipal elections.
Shiv Sena leader Aditya Thackeray warned that the current government at the centre has plans to break Mumbai and make it lean towards Delhi. He claimed that the BJP is eyeing the deposit of 90 thousand crores of Mumbai Municipal Corporation, and predicted that this government will collapse soon.
To Read Political And Bureaucracy News Join Sarkar Khabar WhatsApp Group